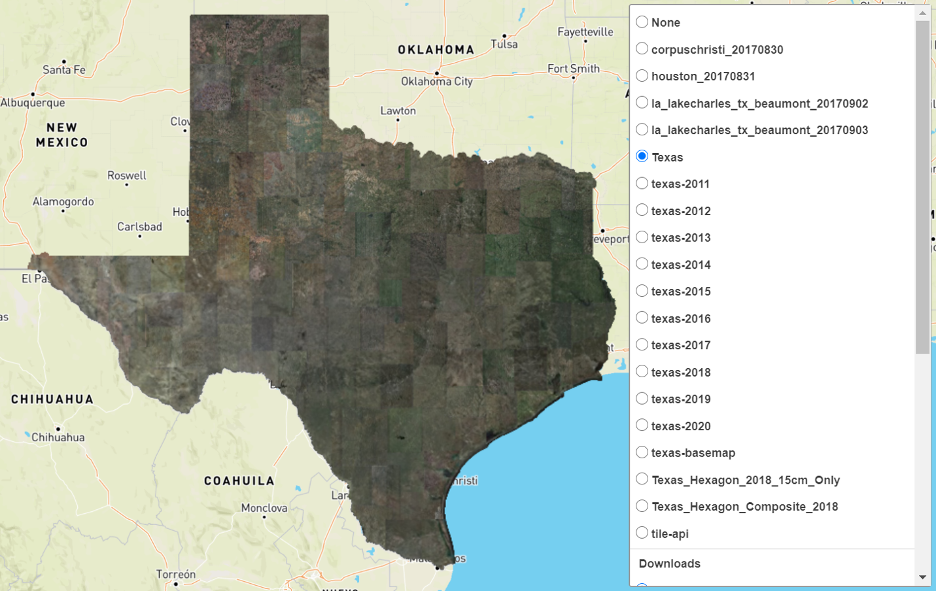 There are several layers in the WMTS and WMS Texas Imagery Service. The 'Texas' main layer contains imagery from our legacy Google imagery flights last updated May 2020. The Hexagon layers may contain
more recent imagery in the rural areas only
compared to the 'Texas' main layer. They are:
Texas_Hexagon_2018_15cm_Only - urban areas 15cm/6in imagery
Texas_Hexagon_Composite_2018 - statewide 30cm/1ft imagery
For urban areas, please continue to use the 'Texas' main layer
for the most recent imagery.
Hexagon is currently flying the entire state of Texas at 15cm/6in resolution!
This 2020 imagery will replace the Google imagery statewide in the 'Texas' main layer in
early 2021
. The best part is that the switch will be transparent, and you will not need to reconnect or change your connection!
Layer Descriptions:
Texas
Statewide mosaic of latest available imagery in the Texas Imagery Service from legacy Google imagery content. This layer will eventually contain the
new 2020 6-inch imagery flown statewide by Hexagon.
The 'switch out' from the Google imagery will occur in early 2021.
Texas_Hexagon_2018_15cm_Only
This layer includes Texas' major urban areas only flown by Hexagon in 2018 at 6-inch/15cm resolution.
Texas_Hexagon_Composite_2018
This layer includes consistent, statewide imagery flown by Hexagon in 2018 at 1-foot/30cm resolution.
texas-2011 through texas-2020
These layers contain imagery captured by Google from 2011 - 2020 that is now archived after new imagery became available. This layers each contain all imagery collected within each year.
texas-basemap
This layer includes roads, county boundaries, major water features, and city names available as base information that were cartographically designed for use on top of imagery while using the service.
Hurricane Harvey image layers
corpuschristi_20170830
houston_20170831
la_lakecharles_tx_beaumont_20170902 and 03
These layers include imagery flown over some of the affected areas during the Hurricane Harvey event. They include Corpus Christi flown on 8/30/2017, Houston flown on 8/31/2017, and Lake Charles/Beaumont flown on 9/2/2017 & 9/3/2017.